Thursday, 3 March 2011
Interview with Melina Marchetta
I am so excited to welcome one of my favourite authors to the blog today. Melina Marchetta is the author of
The Piper's Son
,
Saving Francesca
,
Finnikin of the Rock
,
Looking for Alibrandi,
and Printz award winning
Jellicoe Road.
She was kind enough to answer some questions for me.
Enjoy!
1) The Piper's Son revisits the characters we all fell in love with in Saving Francesca. Did you always know you'd revisit these characters or did it surprise you, and can we expect to hear from anyone else in the gang, Jimmy for example (fingers crossed here for a yes)?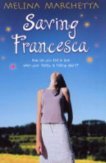 First, the easier question to answer (perhaps painful to you). There is no Jimmy novel but then again when Francesca came out in 2003 I would have sworn there was no Tom novel. So who knows in the future. For me the absence of some of the characters such as Jimmy, Siobhan as well as Joe Mackee and Tom Finch spoke louder than their presence so I kept them away.
I didn't imagine I'd revisit the Francesca gang, but at the time I thought there could have been a Will story or one revolving around Tara Finke. Most times I begin writing a novel when a character comes calling and strangely, Tom came calling in 2008, 5 years after Saving Francesca. He's been my biggest surprise.
2) The Piper's Son is unusual because it is told from the split perspective of Tom and his Aunt Gerogie. Can you tell us why you decided to tell half the story from Georgie's point of view, rather than say Tara's or a contemporary of Tom's?


Before I wrote Finnikin of the Rock I wanted to write a novel about a woman named Georgie Finch who had to travel to France to collect the body of her brother who died there tragically. That's as far as I went. Finnikin came along and Georgie was just a memory of a character who didn't work. One night I was watching a documentary about a group of Vietnam Vets returning to Vietnam to retrieve the first of five bodies left behind during the war. It was as if Tom Mackee sat beside me on the sofa that night and said, 'That's my family's story and Georgie Finch is my Aunt.' I don't have writing moments like that but I love that I remember the very moment Tom came back into my head.
Georgie is of my generation and in every one of my novels the adults have had their story told through the point of view of the teenager telling the story (think Hannah in Jellicoe and Frankie's parents in Saving Francesca). This time I wanted the adults to have a voice. Georgie and Tom are on the same journey. They're stuffing up relationships, their grieving and they're both trying to hold the family together. I also think they're both really funny characters. I loved their scenes together and I love the fact that younger readers have enjoyed Georgie's story as much as Tom's. I think her relationship with Sam is as poignant as Tom's relationship with Tara.
3) Music plays a huge part in Tom's life and in The Piper's Son. Do you have theme songs for your books?


I have one playlist that ends up in the novel and another that I listen to in order to understand the character. This friend of mine who is in his 20s downloaded me a list of songs he thought Tom and his friends would listen to. I think that once you work out a character's music taste, you work out something about them and what makes them different to each other.
4) What was your journey to publication like?


Very long. I was quite young when Looking For Alibrandi came out. I started writing it when I was 20 and it was released when I was 27. I was rejected about five or six times. Being published is not for the faint hearted or the lazy. You can find yourself re-writing a scene about twenty times. I remember the prologue of Finnikin nearly broke me whereas the Prologues of Jellicoe and The Piper's Son stayed the same from the moment I first wrote them, give and take a word or two.
5) I heard you were working on a sequel to Finnikin of the Rock. Can you tell us anything about that and when we might be able to get our hands on it?


The sequel(s) are called Froi of the Exiles and Quintana of Charyn. Froi is probably coming out in Australia in October and Quintana in April next year. The first novel has one of those awful cliff-hanger endings, but if I didn't do that, I think I would have compromised the story. Three years after the events in Finnikin of the Rock, Froi is sent to the enemy kingdom of Charyn to kill the King but of course nothing works out as planned and he begins his great journey finding out who he is. Froi's been an amazing character to write because the only road for him is redemption after what he tried to do in FOTR and Quintana is probably the most insane character I've ever written, but a real treat to have in my head. I've made sure that the world of Lumatere ties in with what's taking place in Charyn. At one stage I wanted to call it A tale of two Kingdoms because the story really belongs to both.
A huge thank you to Melina for taking the time to answer. I can't wait for the sequels to Finnikin of the Rock they sound amazing. I'm also really hoping that Jimmy decides to sit down next to Melina sometime in the not to distant future or maybe Luca Spinelli 🙂
Posted by

Alexa
at 19:00