Today I am delighted to welcome Stephanie Perkins to the blog. Stephanie is the author of one of my Top Ten books of the year, Anna and the French Kiss. Reasons you absolutely, positively must read it, can be found here. She was kind enough to answer a few of my questions. Hope you enjoy the answers.
The inspiration arrived in a dream—a beautiful boy with a French name and an English accent sitting on the steps of the Panthéon—and it was impossible to resist. Or, more accurately, THE BOY was impossible to resist.  My inspiration always starts with the boy!
2) 
 Étienne St. Clair is my new literary crush. He's just so. . .
 Étienneish!
 Who are your literary crushes and why?
Oh, MAN.  What an awesome question.  I like crushes with flaws.  Perfection is boring!  I love anyone Meg Cabot creates—Michael Moscovitz (

The Princess Diaries

 series, hottest geek ever) and Jesse de Silva (

The Mediator

 series, hottest ghost ever) are particular favorites.  Sarah Dessen has some super-sexy, flawed guys.  I especially love Wes (

The Truth About Forever

, sweet but tough) and Dexter (

This Lullaby

, cute and awkward).  Adam from Gayle Forman's 

If I Stay

 and 

Where She Went 

is such a REAL guy, and he has such a big heart.  I fell in love with Remus Lupin, because he was the first person to treat Neville with genuine kindness (rather than pity).  And Shrimp from Rachel Cohn's 

Gingerbread

 series is the most flawed of all, so I might even like him the most!
And then you hit Jane Austen, and the list never ends: Mr. Darcy, Henry Tilney, Wentworth, Col. Brandon . . .
3) Due to the gorgeous locations I can completely see Anna as a film. What would the theme song be?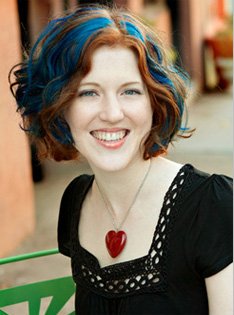 Thank you!  As a cinema geek, I would love to see 

Anna

 turned into a film.  Her theme song is "Besoin De Rien" by The Hellboys, a French punk band. Not so much for the content—the title means "thanks for nothing," ha!—but because it *feels* exciting and confusing.
4) Anna is a complete movie geek, she even has a blog, although sadly we never get to read any of her posts. What are your five must see movies?
(1) Trainspotting
(2) Amélie
(3) Pride & Prejudice (2005) — I know, I know.  I like the Colin Firth one, too!
(4) Rushmore
(5) Stranger Than Fiction
5) In her blurb Maureen Johnson advises us to date 
Anna and the French Kiss.
 Which I thought was a perfect way to sum up the book. What would your perfect date involve?
A swoony independent film, followed by dinner at my favorite French restaurant, followed by coffee in a late-night bookstore.

          ****
Thanks so much Stephanie, (don't you wish you could have dreams like Stephanie's, mine are always about my teeth falling out)