Thursday, 9 June 2011
Where I've Been
Four Things I've been doing while I haven't been blogging
1) Celebrating the baby's second birthday ~ it is crazy that he is two! Guess I need to stop calling him the baby. It was a fun day with cake, balloons and coffee for Mummy as the birthday boy kept pointing out (might need to cut my intake!)
The view from now on 🙂
2) Celebrating our Anniversary. Gosh four years. How'd that happen? We celebrated with a trip to Paris, where;
I had a total Anna and the French Kiss moment.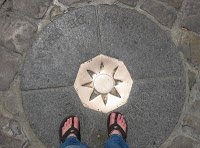 Kilometre Zero
Took too many photos of the Eiffel Tower

And ate far too much!
Wish this was breakfast every morning!
3) Reading! Well of course. And I have three amazing books I need to tell you about
4) Having a Blog Makeover!
Did you notice?
I hope so! The always fabulous and multi talented Caroline Tung Richmond designed the new header for me. Isn't it gorgeous?
Posted by

Alexa
at 19:53