Wednesday, 23 September 2009
Waiting on Wednesday – Leviathan & Fire
Like many people I am eagerly awaiting
Leviathan by Scott Westerfeld (out 6th October)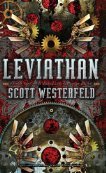 In an alternate 1914 Europe, fifteen-year-old Austrian Prince Alek, on the run from the Clanker Powers who are attempting to take over the globe using mechanical machinery, forms an uneasy alliance with Deryn who, disguised as a boy to join the British Air Service, is learning to fly genetically-engineered beasts.
I mean how amazing does that sound?
I'd love to know how he comes up with this stuff and I may get the chance because I just found out that Scott is coming to DC *screams*
I am bouncing up and down with excitement. I was a late and reluctant guest at the Uglies party. I was just sure I wouldn't like it but it's completely wonderful. I just couldn't put the books down. I started Pretties in the car on the way home from the bookstore. (I wasn't driving.)
And as if this wasn't enough excitement Kristin Cashore is also doing a signing here. I've been following the Fire Tour and the book sounds even better than Graceling, hard to imagine I know.
It is not a peaceful time in the Dells. In King City, the young King Nash is clinging to the throne, while rebel lords in the north and south build armies to unseat him. War is coming. And the mountains and forest are filled with spies and thieves. This is where Fire lives, a girl whose beauty is impossibly irresistible and who can control the minds of everyone around her.
"Waiting On" Wednesday is a weekly event, hosted at Breaking the Spine, that spotlights upcoming releases that we're eagerly anticipating.
Go Join in.
Posted by

Alexa
at 12:59