Monday, 2 August 2010
The Beach
We're just back from a trip to Nag's Head in North Carolina. We ate crab cakes and scallops, played scrabble, listened to Brad Paisley and introduced the baby to the beach. He decided he liked the sea, so much that we had to restrain him from running straight into it, and that sand does not taste good.
I also read. Not as much as I usually do on holiday but I did get through 31/2 books and, lucky me, they were all fantastic.
The Nobodies Album by Carolyn Parkhurst. An adult book! I heard about this on Books on the Nightstand. Then found out Carolyn was appearing at Politics and Prose. She did a great reading. I had to buy the book after the bit she read made me cry. It's a great read especially for writers I think.
The Mockingbirds by Daisy Whitney. This book was incredible, empowering, and heartbreaking. I loved it! (a proper review nearer the time). But I'd advise pre-ordering. Thanks to James of Book Chic for the loan of his ARC.
The Year of Secret Assignments Jaclyn Moriarty I won this book in Nomes of InkCrush's contest. Thank you Nomes. I think I've discovered a new favorite author. This book made me laugh and cry and feel like Em, Lyd, Cass, Charlie and Seb are real and this was a school project that got published! Seriously every Australian Author I have read has not only been outstanding but innovative too*. Do they put something in the water downunder?
I am also half way through Anna and the French Kiss by Stephanie Perkins. All I can say right now is swoon!
I hadn't planned to do any writing or thinking about writing or fretting about writing at the beach but really when faced with this every morning how could I not imagine who might be walking along the beach watching the sunrise?
Then there was this and this.
Pure Inspiration!
One night we even got a Low Red Moon. No werewolves though and no photo sadly.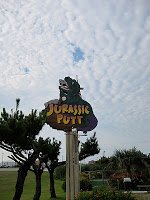 I also really need to write a scene a Jurassic Putt – best name ever. It made me laugh every time we went past. My characters may also need to go to the need to go to the Brew Thew. Drive through beer, nice. It's just a shame about that pesky 21 age limit.
So all round a fantastic break with just one disappointment. The Dairy Queen. The ice cream and the place did not live up to my childhood imaginings. But it was okay because the Ihop on the way home totally did.
* based on books by Melina Marchetta, Markus Zusac, Justine Larbalestier and now Jaclyn Moriarty. Not a huge pool I know 🙂
Posted by

Alexa
at 22:00