Wednesday, 9 January 2013
Ten 2013 Books I can't Wait to Read
My Ten Must read books in 2013.
I WANT this so badly! I loved the first book and I can't wait to be back with Blue and those Raven Boys!
I've just re-read The Demon's Lexicon series and now I'm even more excited for more from Sarah Rees Brennan. And this one has chapters from Holly's perspective, I love Holly!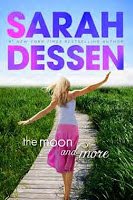 All Sarah Dessen's books are a must read for me.
I loved her first two books and this one "A mystery and a love story with duel narrators" has me intrigued Plus the title!
Love Diana Peterfreund and this re-telling of the Scarlet Pimpernel sounds amazing.
Had me at parallel worlds!
I have heard it compared to Lost in Translation and Where She Went – so basically sounds brilliant!
Young, in love and on the run!
I'm not a huge fan of sci-fi BUT this one sounds amazing. Plus I've been following Amie's blog for ages, so it's brilliant to see her book coming out.
What books are you waiting for in 2013?
Posted by

Alexa
at 22:47