Monday, 26 September 2011
Six Things I've Been Doing While I haven't Been Blogging
1) Playing with my son ~ we are both in love with the new dragon at the playground.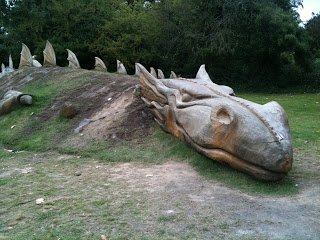 2) Reading ~ Mainly adult books (hence the lack of reviews), but I did read and love Meg Cabot's All American Girl books. Also I've just started As I Wake by Elizabeth Scott
3) Watching Jane Eyre, finally! I was so excited about this movie and then it came out the day I left the US, and then it didn't release here until September. Which is crazy as it was a BBC production. Anyway I am happy to report it was well worth the wait. The two leads are fabulous, it's beautifully shot, and it's a really good adaptation.
4) Watching TV ~ one good thing about Autumn is the TV. I'm currently loving the second season of Downton Abby, the last *sob* season of Spooks, and the new series of Strictly Come Dancing, Jason Donovan to win!
5) Making Granola, this is so yummy and so easy, but I am eating it like candy!
6) Writing ~ still slogging away here. The word count rising slowly.
Posted by

Alexa
at 14:41