Wednesday, 29 September 2010
RTW: Best Book Of September
Road Trip Wednesday Topic: What's the best book you read in September?
Anna and the French Kiss.
I was so happy to snag a copy at ALA (thank you, thank you to the lovely woman who went routing around under tables to find me the last copy!). I saved it up for my holiday because I knew it was going to be good and I hate when you take a disappointing book on holiday.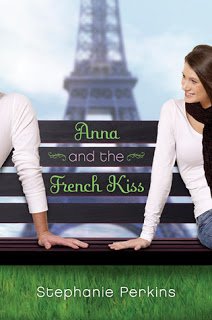 Anna lived up to all my expectations. I LOVED it. I want to run away to Paris with it, visit the Eiffel Tower and Notre Dame, wander the streets eating macaroons, then catch a movie.
Anna is a great mani character. She's easy to relate to, funny and I can easily imagine being friends with her. While
Étienne
is the most swoonworthy love interest I've encountered this year. Yay for British boys or boys with British accents.
Anna and the French Kiss is definitely one to buy, read and love forever. It's out 3rd December but you can check out Stephanie Perkins blog now. It is nearly as adorable as her book!
A proper review to come nearer the time, but I just needed to share my love for this debut right now!
Road Trip Wednesday is a "Blog Carnival," where YA Highway's contributors post a weekly writing- or reading-related question. Join the fun
here.
Posted by

Alexa
at 18:01