Wednesday, 29 February 2012
RTW: Best Book of February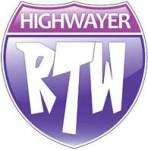 Road Trip Wednesday is a 'Blog Carnival,' where YA Highway's contributors post a weekly writing- or reading-related question and answer it on our own blogs. You can hop from destination to destination and get everybody's unique take on the topic.


What was the best book you read in February?
Despite being the shortest month I read more books than usual in February, 8 in fact. While many of them were good, even excellent, the hands down winner was
Graffiti Moon by Cath Crowley


I have been waiting over a year for this book, after reading some amazing reviews and, oh it was so worth the wait! It is amazing, and beautiful, and just perfect!


I am in deep, deep love with this book. It may even be rivaling Saving Francesca as my favourite YA ever. I am exhausted today because I stayed up very, very late finishing it, but I couldn't stop. I had to know what happened to Ed, Lucy, Leo, Jass, Daisy, Dylan, Shadow and Poet. Plus (and I do this very very rarely) I am re-reading already. It is just that good and I'm not ready to leave the world yet.


Run, RUN!, to your nearest bookshop to get your hands on this.


Full review to come soon, when I am more coherent.
Posted by

Alexa
at 13:45