Tuesday, 23 February 2010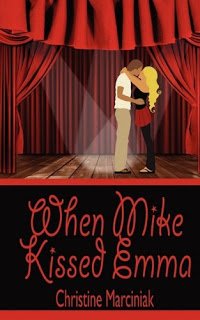 When Mike Kissed Emma by Christine Marciniak
Emma Landon has a plan: she's going to be in the high school musical and sing the most romantic song possible to her boyfriend. She's not looking for the lead, just a decent part where she and Trevor can dance together on stage. The plan starts to unravel when she gets the starring role, and playing opposite her is not her perfect boyfriend, but the school loner, Biker Mike. When Mike kisses Emma at the school dance, everything changes. Emma must figure out what is more important-the way things look or something deeper. (from Goodreads)

My thoughts
You know when you've had a rough day and you just want to curl up on the sofa and devour a whole bar of chocolate, but you can't because of that pesky diet? Well, When Mike Kissed Emma, is the perfect alternative.
When Mike Kissed Emma revolves round rehearsals for The Sound of Music, and Christine Marciniak captures the tedium of rehearsing a play, perfectly. There is a lot of standing about waiting. Which is great for gossiping or sneaking off to dark corners! She also uses lines from the play as chapter headings, which I loved. As well as identifying and contrasting her characters with characters from the play.
Emma is a great character. Her narration of events is fast paced and funny. I liked her struggle to stay true to herself and keep her friends. The high school pressure to fit in, and to think the same as everyone else, comes across well and I loved that Emma resisted it. Not just in relation to Mike, but to what she should wear and where she should sit too.
This book was a fast, fun and adorable read. Perfect for the end of a hard day when you don't want to think too hard,
Book received as part of Around the World Tours
Posted by

Alexa
at 13:26