Monday, 1 March 2010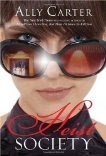 When Katarina Bishop was three, her parents took her on a trip to the Louvre…to case it. For her seventh birthday, Katarina and her Uncle Eddie traveled to Austria…to steal the crown jewels. When Kat turned fifteen, she planned a con of her own–scamming her way into the best boarding school in the country, determined to leave the family business behind. Unfortunately, leaving "the life" for a normal life proves harder than she'd expected.
Soon, Kat's friend and former co-conspirator, Hale, appears out of nowhere to bring her back into the world she tried so hard to escape. But he has good reason: a powerful mobster has been robbed of his priceless art collection and wants to retrieve it. Only a master thief could have pulled this job, and Kat's father isn't just on the suspect list, he is the list. Caught between Interpol and a far more deadly enemy, Kat's dad needs her help.
For Kat there is only one solution: track down the paintings and steal them back. So what if it's a spectacularly impossible job? She's got two weeks, a teenage crew, and hopefully just enough talent to pull off the biggest heist in history-or at least her family's (very crooked) history. (from Goodreads)
Ally Carter's Heist Society is a great premise, well executed. It's fast paced and fun, and it sets up the series well. I'm looking forward to learning more about these characters.
It took me a while to get into the story, the third person, reflective style kept stopping me from really losing myself in the story. As Kat assembled her crew and started planning the ultimate heist, I found I got caught up in the action and couldn't put the book down – Ally Carter is a master at the cliff hanger chapter ending.
A word about the boys, because this is a book with a lot of boys. I loved geeky Simon, and the Bagshaw brothers had a definite George and Fred Weasley feel about them. Then there are Kat's love interests; Hale, a teenage Thomas Crown, and Nick, a mysterious outsider. I liked Hale a lot. Ally Carter said on her blog she's expecting everyone to fall for him. But can I just put in a word from Nick? I thought he was the more intriguing character and very similar to Kat. I'm hoping he turns up in the next books, because a) I like him and b) everyone loves a good love triangle!
Here's a snippet of Kat and Nick in action.
She held his wallet out toward him. "care to trade?" Then she opened it and looked at the I.D. "Nicholas Smith. Sixteen. British citizan." She glanced between the I.D. and the boy in front of her. "Not very photogenic."
"How. . ." he started, but Kat' look stopped him.
"You're telegraphing your cover," she said matter-of-factly.
"Kat was prepared for an argument and lies, anything but the sight of the boy smiling, the sound of him saying, "Wow Talented and cute. It's very nice to meet you Katrina."
If you like Cammie and the Gallagher Girl books, I think Heist Society will be a hit with you. It's a exciting read.
(Oh and Warner Brothers, you know you have to cast Michael Caine as Marcus, right?)
Have you read Heist Society yet? What did you think?
Posted by

Alexa
at 16:45