Monday, 17 January 2011
Maggie Stiefvater Book Signing and SHIVER Giveaway
I
have a deep, deep love of The Wolves of Mercy Falls series. I fell hard for the story and characters in SHIVER and although I was very nervous about it having a sequel, LINGER cast its spell over me from chapter one. Grace, Sam, Cole and Isabel are some of my favourite characters, and I can not wait to get my hands on FORVER.
This being the case, I've been trying to go to a Maggie Stiefvater signing for ages. It shouldn't have proved that hard since she does a lot of events in Virginia, but the timing was always wrong. It seemed like I was jinxed and would have to live vicariously through James of Book Chic's posts.
Then on Friday, as I was killing some time of Facebook, I happened to see (fate!) she had a Saturday signing in Frederickburg. So I left the baby with his Daddy, jumped in the car, and headed off.
It was so worth the trip. Maggie was interesting, funny, and just plain nice. If you read her blog, listening to her talk is exactly like reading it. She tells stories, goes off on tangents, and makes you laugh.
A few of the stories I knew from her blog, but I didn't know that the British version of LAMENT has had the words bloody and frigid removed. Which strikes me as very funny, seeing as we do use them to mean covered in blood and cold too!
Anyway, I had a great time and I even asked a question, two questions in fact! Which, if you know me, you'll know is huge. I am, not shy exactly, but I don't like talking in big groups. But I asked and no one shouted what a stupid question, so it was all okay.
And in case you're wondering I asked Maggie if she's a plotter or a panster. She answered that she writes her novels the way she plans her road trips. She has a starting point, a destination, and a few highlights along the way, but plenty of room for detours too.
Afterward Maggie signed books, handed out samples of the English version of LAMENT (bloody and frigid free – phew!), and posed for photos.
I got a photo, in which I don't look completely insane, and Maggie has her eyes open, so I can post it here (although my hair needs a cut!)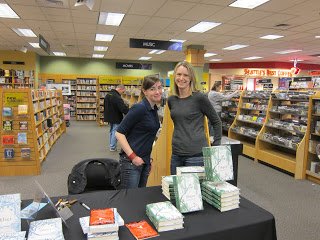 Of course I got a signed SHIVER to share with one of you. Maggie even drew a cute wolf in it, look




So cool.


So if you live in the USA, UK or CANADA (sorry international readers I'm poor this month) and would like a signed copy of SHIVER. Leave a comment by midnight on the 21st January 2011 and I'll randomly pick one of you.
Posted by

Alexa
at 00:43