Monday, 8 February 2010
Seventeen-year-old Colt has been sneaking out at night to meet Julia, a girl from an upper-class neighborhood unlike his own. They've never told anyone else about their relationship: not their family or friends, and especially not Julia's boyfriend.When Julia dies suddenly, Colt tries to cope with her death while pretending that he never even knew her. He discovers a journal she left behind. But he is not prepared for the truths he discovers about their intense relationship, nor to pay the price for the secrets he's kept.
Received as part of our hosted by Around the World Tours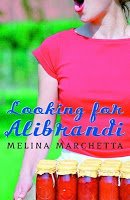 During her senior year in a Catholic school in Sydney, Australia, seventeen-year-old Josie meets and must contend with the father she has never known.
Bought. I have a slight love affair going on with her other book Saving Francesca. So I'm kind of nervous about this one.
IMM is hosted by The Story Siren. What did you get?
Posted by

Alexa
at 07:11