Friday, 15 October 2010
End Notes
My new version of Friday Five because sometimes I have five things to say, sometimes one thing and sometimes many things!
I have been away from the internet this week both blogging and commenting (I'm about to try and catch up but my google reader overspillith). Instead of blogging I've been WRITING! Finally, after three false starts, this story is headed in the right direction. I'm excited and buzzing and I hope it continues into November for NaNoWriMo.
One of the few blog posts I did read this week though was by Sarah Dessen and it was all about how hard she finds writing. You can read it here, if you haven't already. I love when authors share about their writing because part of me still believes that writers, like Sarah Dessen, just sit down, turn on the computer and the words flow. And it's all perfect the first time around, no plot holes, no under developed characters, no adverbs running amok, no clunky dialogue or dull descriptions. Just perfection. So it's nice to know even NYT bestsellers have days (and books) when their souls get shattered.
I won't be around much next week either as I am going to Florida. You know, to escape this terrible cold Fall we're having in DC. I'm very excited to see Disney again, I may need some Micky Ears. I've stocked up the Kindle. I have Ascendant, Beautiful Darkness and The Spell Book of Listen Taylor. The kindle does kind of come into it's own on trips, but I think I might miss seeing the covers of these books, especially as they are all wonderful.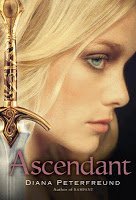 Enjoy you're weekends. Do come around next week as I have two reviews, an interview and a giveaway scheduled!
Posted by

Alexa
at 12:00