Thursday, 11 March 2010
Cover Wars – HEX HALL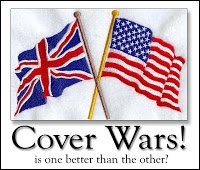 The Book Hex Hall by Rachel Hawkins
USA
I adore the US cover of Hex Hall. I love the use of the reflection. I love the way, Sophie is standing all nervous and folded up, and the girl, in the image, is all confident and glamorous. I love the spooky trees contrasting with the blue in the reflection. I love the reflected title. So a huge thumbs up, for the US cover. Although I'm not sure who that cat is.
UK
Initial reaction, oh no! No, no, no! Please tell me, you did not bump, Sophie from her own cover! If you've read Hex Hall, you'll know the trio of witches in it, are not nice. In fact, rhyme witches, with another word, and you have the gist. They are mean girls, and Sophie is not one of them. They do not deserve the cover. This is Sophie's book!
Basically, the UK, seem to be trying to appeal to fans of the movie
The Craft
(bad choice, it's a dreadful movie and an old movie too) or maybe
Charmed
. But there is, no power of three, in this book. As I said in my
review
,
Hex Hall
is original and charming, rather then a
Charmed
rip off. It deserves a cover that reflects that.
US hands down win today. UK you fail.
What do you think?
Posted by

Alexa
at 14:57