Monday, 13 December 2010
Christmas Countdown: Guest Post by Tara Kelly
I'm very happy to welcome Tara Kelly, author of the wonderful Harmonic Feedback to the blog today. She picked such a fantastic couple too, from one of my favourite shows. Thanks for sharing Tara!
Tara can be found blogging at her personal blog and also at the fabulous new YA blog YA Outside the Lines. Her new book C-Side Tales is out 2011, I can't wait.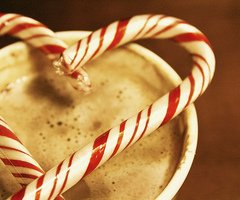 When I think of my favorite couple, Scully and Mulder immediately come to mind. I also think of Anne Shirley and Gilbert Blythe. But I'm pretty sure these couples have been covered numerous times. There's a reason they're popular–they're awesome characters with great chemistry! I also have another favorite couple…one I don't see mentioned too much. So, I'm going to talk about Lorelai and Luke from The Gilmore Girls.
I'm a huge sucker for the best friends who fall in love story. It's been done a million times, but I never get tired of it. Maybe it's because I had a massive crush on my male best friend in high school…I don't know. I'm a big believer in being friends first. Plus…all that pent up sexual tension? Hot!
Okay, so here's why I love Lorelai. She's strong, witty, and at the end of the day–a great mom. There were times I wanted to smack her, but that's part of what makes her such a great character. She has very real flaws, and she doesn't always make the right choices.
And Luke…well, I'm also a sucker for the surly guys. But only if they have a big heart, and they wear a backward baseball hat. Okay, so the last part isn't true. I'm actually not huge fan of baseball caps. But Luke's baseball cap is part of what makes him so loveable. That and his brooding flannel shirts and his amazing breakfasts. Not that I've ever tasted his breakfasts, but in my imagination they are the best thing ever.
No Gilmore Girls episode is complete without witty banter between Luke and Lorelai. They don't always agree or get along, but they absolutely adore each other. To quote
MSNBC.com
(
http://today.msnbc.msn.com/id/6022423/ns/today-entertainment/
): "He built her a chuppah for her ill-fated wedding. She bailed him out of jail." There is never a dull moment in their friendship. Really, the chemistry between these two is just off the charts–and that's without kissing and all that mushy stuff. Through the seasons we get to see their friendship grow and finally–at the end of season four–turn into something more.
So many fictional romances move quickly. Girl meets boy. They're in love within five minutes. Insert conflict of some kind that threatens to keep them apart. They live happily ever after. Blah.
I've never been a fan of that type of love story. Where is the challenge? Where's the tension? Shouldn't that first kiss make you hold your breath? To me–a good romance builds, it takes its time…it waits for the right moment to surprise you. And it involves two characters who are real and flawed. They don't always say or do the right thing–or what you expect.
Lorelai and Luke always surprised me. I mean, yeah, I knew they'd always be friends (even when they hated each other), and I knew they'd end up together at some point. But I never knew how or when…or if it would last. And seriously, the banter is fabulous. It makes every frustrating moment with these two worth it.
Now excuse me while I get back to my own best friends who fall in love story. Thanks for having me, Alexa!
Posted by

Alexa
at 18:00