Monday, 7 March 2011
Book Review: What my Mother Doesn't Know & What my Girlfriend Doesn't Know by Sonya Sones
I have Nomes of
InkCrush
and my local library to thank for introducing me to these fabulous books.
Nomes, because she wrote such a lovely review, calling these books ones curl up with on a Sunday. My library because the fabulous liberians always do such lovely displays.
These two things came together when I was dashing into the library to pick up some books (browsing is no longer an option with the toddler in tow) What My Mother Doesn't Know was on display and I thought, yes I just fancy curling up with that. So I added it to the pile.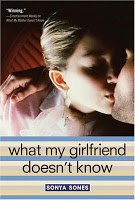 I opened it up that afternoon after putting my son down for his nap and suddenly it was time to get him up again. What My Mother Doesn't Know is a book that effortlessly sucks you in. I wanted to read slowly to enjoy the words, but I also wanted to read very fast to know what happened.
When I finished later that evening I immediately downloaded What My Girlfriend Doesn't Know on to my Kindle. When I finished that I went online and bought both books.
Why?
Because these are books I want to keep by my bedside and dip into.
So that probably tells you everything you need to know about how much I love these two books.
But
Here's some more. Just in case.
Every single page contains a gem – the kind of sentence or phrase you want to roll around in your mouth because it sounds so lovely, or write down because it so perfectly encapsulates a feeling.
Sonya Sones makes you feel so much, and care so deeply, with so few words – it's magical.
Like me you may have been scarred by having to study William Blake for a whole year (I mean seriously there were no other poets?) and therefore think verse novels are not for you. You would be so wrong, take a chance, trust me!
Nomes was right – these are perfect sunday afternoons. Think roaring fire, hot chocolate, hours gone in a flash afternoons.
Such lovely characters.
They're funny.
And sad – you know I love that mix.
They made me remember being a teenager so well, all the little things and the big things. Like this –
It's not that I'm boy crazy.
It's just that even though
I'm almost fifteen
it's like
my mind
and my body
and my heart
just don't seem to be able to agree
on anything.
These books are Just. Magical.
Sonya Sones has a very lovely web site here and a new adult book out on April 5th The Hunchback of Neiman Marcus: A Novel about Marriage, Motherhood and Mayhem
Posted by

Alexa
at 23:19