Tuesday, 14 May 2013
Book Review – SHADOWS by Paula Weston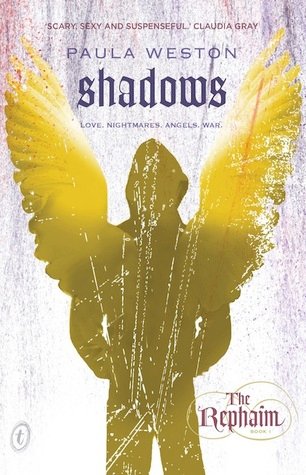 It's almost a year since Gaby Winters was in the car crash that killed her twin brother, Jude. Her body has healed in the sunshine of Pandanus Beach, but her grief is raw and constant. It doesn't help that every night in her dreams she kills demons and other hell-spawn.And then Rafa comes to town. Not only does he look exactly like the guy who's been appearing in Gaby's dreams—he claims a history with her brother that makes no sense. Gaby is forced to accept that what she thought she knew about herself and her life is only a shadow of the truth—and that the truth is more likely to be found in the shadows of her nightmares.Who is Rafa? Who are the Rephaim? And most importantly, who can she trust?Fast-paced and gripping, Shadows, the first book in the Rephaim series, is a standout paranormal romance for fans of Richelle Mead and Cassandra Clare. (from Goodreads)

I bought Shadows on the strength this fantastic review, by Nomes. She is not normally a fan of paranormal, so I knew this must be something special.

It was.

I started Shadows at 9pm on a Wednesday night and was still reading at 2am. Despite knowing that my son would be waking at 6am, I just couldn't put this down. Paula Weston is an absolute master of the cliff hanger. Every. Single. Chapter ends with one. Making this a breathless, can't read it fast enough book.

Given the cover I don't think it's giving much away to say it's about Angels. I'm not well versed on angel mythology, so I can't say if Paula Weston's take is unique, but I can say it is brilliantly done. The world building is fantastic. I loved the way information was dripped to us. I loved how I would start having doubts about a certain characters actions, or motives, or explanations and then, bam, I'd find out I was right to be having doubts. I am still slightly unsure about certain things, but I fully expect them to be addressed in Haze, Book 2 of the Trilogy.

The break neck pace of Shadows doesn't mean characterisation is sidelined. I loved Gaby from the first pages, she has a great voice, and her grief is believable and heart wrenching and I was on her side completely. As for Rafa I was swooning from his first meeting with Gaby and kept swooning for the whole book. I loved his banter with Gaby, it was reminiscent of the way Sarah Rees Brennan's characters converse, spiky sarcasm and sharp edged one liners, which made the swoony parts even more swoony.

I really can't wait for Haze to come out so I can continue with Gaby's journey. Highly recommend.

The first three chapters of Shadows, the first chapter of Haze and, Blood Song, the story Gaby posts online are all available on Paula Weston's website.




Posted by

Alexa
at 20:45