Friday, 1 October 2010
Banned Book Week
Instead of my five happy/random things, today I'm posting about banned book week. Which makes me both happy and sad, hopefully one day we won't need it anymore.
I borrowed this banned book meme from Jo Knowles, who has written lots of interesting posts on banned books. Thanks Jo!
1. Go find your favorite banned book.
2. Take a picture of yourself with said book.
3. Give that book some love by explaining why you think it is an important book.
4. Post it to your blog.
5. Spread the word!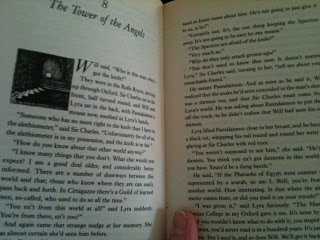 Here's a photo of me reading The Subtle Knife, book two in Philip Pullman's His Dark Materials Trilogy. I love these books, so much so that my son is named for one of the characters and I can't wait to share them with him when he's older.


I can understand why people may choose not to read these books. I can not understand why they would be so threatened by them they would seek to deny everyone the choice of picking them up.


I could write a long defense but I think Philip Pullman says it best.


People should decide on the books' meanings for themselves. They'll find a story that attacks such things as cruelty, oppression, intolerance, unkindness, narrow-mindedness, and celebrates love, kindness, open-mindedness, tolerance, curiosity, human intelligence."


I also love this quote by him, which is perfect for Banned Books Week.


"After nourishment, shelter and companionship, stories are the thing we need most in the world."
You can learn more about Banned Book Week here
What's your favourite Banned Book?
Posted by

Alexa
at 12:57