Sunday, 16 January 2011
Aussie YA Book Challenge
The lovely and awesome Nic of Irresistible Reads is hosting the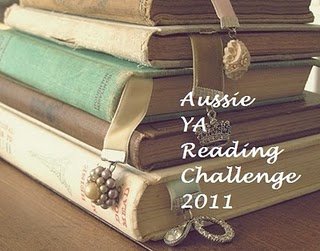 As I am currently obsessed with Aussie books, I had to sign up. All you have to do is read 6 Aussie YA books between 1st January, 2011 to 31st December, 2011.


Easy, when there are so many fabulous Aussie YA's hitting the shelves this year.


My six are;


1) THE PIPER'S SON by Melina Marchetta ( I have read it but I want to re-read it and I want the US version too)


2) FURY by Shirley Marr


3) GRAFFITI MOON by Cath Crowley


4) GOOD OIL by Laura Buzo


5) SIX IMPOSSIBLE THINGS by Fiona Wood


6) KINGDOM OF CELLO by Jaclyn Moriarty


The only problem will be getting my hands on them, but I'm hoping The Book Depository will come up trumps.




If you think this sounds like a great challenge, you can sign up HERE


I'm not signing up for any other challenges, as I have a horrible record with them, but I have made my own personal challenges which are


Every month read:


One Classic
One YA (at least it'll probably be more)
One Adult
One Re-read
One Audio


I'm trying to mix things up a bit, 2010 having been the Year of YA.


What about you guys any challenges/reading resolution to welcome in 2011?


Posted by

Alexa
at 03:44