Monday, 1 November 2010
Anna and the French Kiss Giveaway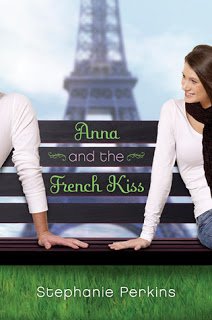 I've written a couple of times about my deep love for Anna and the French Kiss and how happy I was to get an ARC of it at ALA. Now those lovely people at Dutton have sent me another ARC, so of course I'm going to share
AND
because I LOVE this book so much (I kind of want to hug it and pet it) I'm going to give away another copy, when it hits the shelves on the 2nd December.
Which means TWO chances to win today.
If you missed earlier raves and the Publishers Weekly Starred Review, here are five reasons to read Anna and the French Kiss.
1) Anna – she is just the best kind of heroine. Lovable, relatable, kind and funny, and then occasionally, she does something you always wanted to do and didn't quite dare. Plus she blogs!
2) Etienne St. Clare – well if the name doesn't just floor you. Eitenne is also sweet, charming, nice, has great hair and a brilliant store of interesting stories (he doesn't just stand and smolder!). Plus he has a British accent, proving Brit guys are best 🙂
3) Paris – I felt like I'd revisited Paris after reading this. When you finish you will want to run out and learn French, whip up some macaroons and buy a poster of the Eiffel Tower to stick over your window so you can pretend you live there too.
4) Friendship – Anna and the French Kiss does such a great job on friendships, new friendships, old friendships, changing friendships, and friendships you wish were something more.
5) Kissing! – see the title. There are kisses in this book, the best kind, the kind that make you tingle.
So the contest
Prize One

ARC of Anna and the French kiss by Stephanie Perkins

(open internationally)
Prize Two

Pre-ordered copy of Anna and the French Kiss

(open anywhere The Book Depository ships)
To Enter


Leave a comment


To Get more Entries


Old Followers +3 – just to say thank you. I really appreciate you stopping by.
New Followers +1
Good Luck Everyone. Contest ends Friday at 7pm.
Posted by

Alexa
at 13:49