Thursday, 19 May 2011
A post for Elizabeth Scott Week
The Secret Life of an Avid Reader
is having an Elizabeth Scott Week to celebrate the publication of
Between Here and Forever.
As I adore Elizabeth Scott's book I had to join in.
So Elizabeth Scott and me.
I picked up my first Elizabeth Scott book in Barnes and Noble in Georgetown (oh Georgetown I miss you!). It was on one of my first forays into the YA section. I'd just finished The Truth About Forever by Sarah Dessen and was looking for more of her books.
I ended up buying a book she'd blurbed instead ~ Something Maybe.
The cover caught my eye, the title made me smile (sounds like an Oasis song), the blurb made me pick it up, and the first line hooked me. It's "Everyone's seen my mother naked" in case you haven't read it. Bet you want to now.
I gobbled up Something Maybe, which is adorable ans heart breaking, and went straight back and bought Bloom and Perfect You.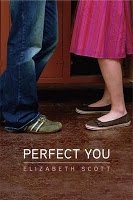 Perfect You ended up being my one of my all time favourite books. I just love it.
I was lucky enough to meet Elizabeth at ALA and get a signed ARC of Grace. She is wonderfully sweet and was very kind while I babbled at her.
Anyway why do I love her? Let me count the reasons.
Her books make me laugh, and swoon, and revisit my high school days.
The girls ~ I love her characters. Some I can imagine being friends with (Kate, Hannah, Dani) and some I want to hug (Amy) and some I get cross with (Lauren!) but I understand them and root for them all.
The boys ~ Will, Finn, Patrick, Evan, Greg. La sigh! I adore them.
Friendship ~ she just writes about friends – losing them, making them, longing to have them so beautifully.
The kissing ~ Oh the kissing scenes, gold star kissing scenes!
Wonderful parents, I really love how her parents have lives that effect and influence their children.
She's surprising ~ that the author of Perfect You and Grace are the same person still makes me pause
She's prolific (I actually think she may have cloned herself!) but that's fine as it means we have two new books to look forward to this year! Yay!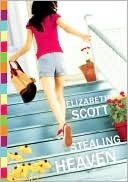 If you've never read an Elizabeth Scott I recommend you start with Perfect You and Stealing Heaven. I feel Stealing Heaven gets over looked, but is just wonderful and the kind of book I want to write some day.
Make sure to check out all the other posts over at The Secret Life of an Avid Reader and enter the rather fabulous competition to win all of Elizabeth Scotts books.
Between Here and Forever is out in the US on 24th May and International readers can find it at The Book Depository (thank goodness for TBD!) – who seem to be shipping now!
Posted by

Alexa
at 13:48