Monday, 14 June 2010
A Day of Woe
Who takes a baby to a book signing? Yes that would be me, and yes, it did not go well.
I never intended to take him, but the family friendly football screening his Daddy was supposed to be going to with him, turned into a 400 strong gathering. They shipped in portaloos! Probably not the best environment for a baby. England fans can get a little excited, shall we say.
I probably should have resigned myself to not going but I'd as really looking forward to seeing, Elizabeth Scott, Jenny Han, Kristen Scott. Also, the baby, is a very good baby and has behaved impeccably at Diana Peterfreund's, Scott Westerfeld's, and Shannon Hale's signings. He was so good and charming at Shannon Hale's, that he had a photo with her and was cooed over by other attendees.
However, he was in no mood to be constrained in the pushchair on Saturday, and in no mood to nap either. So we made a sharp exit the Meeting Room in Bethesda Library before the Librarians pained grimace became something worse.*
Ah well, I thought, at least I can watch England score a glorious victory. 1-0, 2-0, 3-0? How much would we win by?
Alas, an even greater disappointment awaited me.
A draw.
A freaking draw!
With a country that doesn't even care about the game.
Really England, you make it very hard sometimes to be a fan. Very, very hard!
There was a glorious ray of light, in this storm cloud filled day, though. Behold David Beckham, in a 3-piece suit, no less. If there was ever a case for angels falling to earth here he is. Sigh!
Team David Always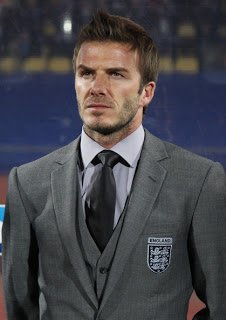 ,
*
My apologies to the person I emailed about a signed book. I shall send you the book just minus the signed bit, sorry. So funny that I put that small print in, maybe I'm physic.
Posted by

Alexa
at 03:37