Thursday, 20 December 2012
2012 Couples Christmas Countdown
2012 Couple Christmas Countdown
Usually the beginning of December marks the Couples Christmas Countdown here at Not Enough Bookshelves. This year I have been a very lazy blogger and so unorganised! But it wouldn't be Christmas without a countdown! Even a very short one. So although there are no guest posts and I'm squeezing 5 couples into a post, I do hope you enjoy the 2012 Couples Christmas Countdown. Hopefully it will be back with a vengeance in 2013!

NB- There are spoilers as to who ends up with who in a book, so if you hate that, click away now!




Number 10 Anna and Cas from Anna Dressed in Blood by Kendare Blake


Such a good book, with such an excellent narrator in Cas. And while the human falls for ghost aspect may not be new, throw in the twist that the ghost murders everyone who enters her home and the human has come to kill her and you have a compelling story.


Number 9 Zuzanne and Mik from Days of Blood and Starlight by Laini Taylor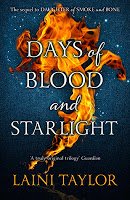 A sidekick couple, but such a fabulous one. I have adored watching them get together and in Days of Blood and Starlight they provide much needed affection, fun and hope. Plus the three quests!

Number 8- Julie and ? Flat Out Love by Jessica Parks




A little cheat on this one, but I really don't want to spoil it for anyone, working out who Julie should be with is half the fun of this delightful book. All I will say is – can a relationship built on emails, facebook status updates, and texts stand up in real life?

Number 7 – Jamie and Trent from The Right and The Real by Joelle Anthony






Ah, relationships that start over a cup of coffee always go well I think. This one is sweet as sugar.

Number 6 – Elliot and Kai from For Darkness Shows the Stars by Diana Peterfreund




Past betrayals, a lot of crossed wires and antagonism, and THAT letter make this one of my favourite relationships of the year!

Come back tomorrow for couples 1-5? And please do tell me the couples you have loved this year.



Posted by

Alexa
at 13:52