Monday, 3 January 2011
11 Books for 2011
Happy New Year! And what better way to welcome 2011, than with a list of 11 books I can't wait to read this year.
Between Here and Forever by Elizabeth Scott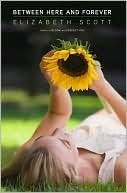 Because it's Elizabeth Scott!
Abby accepted that she can't measure up to her beautiful, magnetic sister Tess a long time ago, and knows exactly what she is: Second best. Invisible.
Now Tess is in a coma, and Abby's life is on hold. It may have been hard living with Tess, but it's nothing compared to living without her.
She's got a plan to bring Tess back though, involving the gorgeous and mysterious Eli, but then Abby learns something about Tess, something that was always there, but that she'd never seen.
Abby is about to find out that truth isn't always what you think it is, and that life holds more than she ever thought it could. (from Elizabeth Scott's website)
C-Side Tales by Tara Kelly



Because I loved Harmonic Feedback and this sounds like it will be just as amazing.


When privileged 17-year-old Jasmine gets kicked out of her house, she takes what is left of her savings and flees to Santa Cruz to pursue her dream of becoming a musician. Jasmine finds the ideal room in an oceanfront house, but needs to convince the three guys living there that she's the perfect roommate and lead guitarist for their industrial rock band, C-Side. Too bad she has major stage fright, and the cute bassist doesn't think a spoiled girl from over the hill can hack it.(from Goodreads)




The Demon's Surrender by Sarah Rees Brennan (June 14th 2011)






Because it's the final book in the trilogy AND it has Alan on the cover!!! I can't wait!




Forever by Maggie Stiefvater
because it's the final book in my other favourite trilogy. In Maggie Stiefvater's SHIVER, Grace and Sam found each other. In LINGER, they fought to be together. Now, in FOREVER, the stakes are even higher than before. Wolves are being hunted. Lives are being threatened. And love is harder and harder to hold on to as death comes closing in.(from Amazon)
Hooked by Catherine Greenman
Because the description of this just has me hooked!
Thea Galehouse has always known how to take care of herself. With a flighty club-owner mom and a standoffish, recovering-alcoholic dad, Thea has made her own way in her hometown of New York, attending the prestigious and competitive Stuyvesant High School. But one chat with Will, a handsome and witty senior, and she's a goner—completely hooked on him and unable to concentrate on anything else.
Always worried that she loves Will more than he loves her, Thea is pleasantly surprised when their romance weathers his move to college and Will goes out of his way to involve her in his life. But then, Thea misses a period. And that starts Thea and Will on a wild ride that neither of them could have possibly prepared for. When they decide to keep the baby, their concerned parents chip in what they can to keep Will in school and give both teenagers a comfortable place to raise their child. But when a freak accident leaves Thea shaken and threatens to upend their little family altogether, Thea is forced to turn to the last place she would have chosen for comfort: her stiff, uncompromising father.
This smart, touching first novel brims with realistic, beautifully drawn characters, and reminds us that love is never as easy or predictable as we might like it to be. (from Goodreads)
Imaginary Girls by Nova Ren Suma
Because it not only sounds amazing, Courtney Summers says it is amazing. I think this is my most anticipated book of the eleven. Also I think I'd buy it for the cover alone.
Chloe's older sister, Ruby, is the girl everyone looks to and longs for, who can't be captured or caged. When a night with Ruby's friends goes horribly wrong and Chloe discovers the dead body of her classmate London Hayes floating in the reservoir, Chloe is sent away from town and away from Ruby.

But Ruby will do anything to get her sister back, and when Chloe returns home two years later, a precarious and deadly balance waits. As Chloe flirts with the truth that Ruby has hidden deeply away, the fragile line between life and death is redrawn by the complex bonds of sisterhood.

Imaginary Girls is a masterfully distorted vision of family reminiscent of Shirley Jackson, laced with twists that beg for their secrets to be kept.






Like Mandarin by Kristen Hubbard


Because it's been blurbed by Melina Marchetta – "A beautifully crafted, bittersweet story about an unlikely friendship that sets two very different people free.". Plus it's about friendship and some of the best books I read in 2010 were about friends.





It's hard finding beauty in the badlands of Washokey, Wyoming, but 14-year-old Grace Carpenter knows it's not her mother's pageant obsessions, or the cowboy dances adored by her small-town classmates. True beauty is wild-girl Mandarin Ramey: 17, shameless and utterly carefree. Grace would give anything to be like Mandarin.

When they're united for a project, they form an unlikely, explosive friendship, packed with nights spent skinny-dipping in the canal, liberating the town's animal-head trophies, and searching for someplace magic. Grace plays along when Mandarin suggests they run away together. Blame it on the crazy-making wildwinds plaguing their badlands town.

Because all too soon, Grace discovers Mandarin's unique beauty hides a girl who's troubled, broken, and even dangerous. And no matter how hard Grace fights to keep the magic, no friendship can withstand betrayal. (from Goodreads)


Ten Miles Past Normal by Frances O'Roark Dowell
Because I've been hearing a lot of buzz about this one and it just sounds a great, fun idea. Plus I'm really curious as to Monster!
Janie Gorman wants to be normal. The problem with that: she's not. She's smart and creative and a little bit funky. She's also an unwilling player in her parents' modern-hippy, let's-live-on-a-goat-farm experiment (regretfully, instigated by a younger, much more enthusiastic Janie). This, to put it simply, is not helping Janie reach that "normal target." She has to milk goats every day…and endure her mother's pseudo celebrity in the homemade-life, crunchy mom blogosphere. Goodbye the days of frozen lasagna and suburban living, hello crazy long bus ride to high school and total isolation–and hovering embarrassments of all kinds. The fresh baked bread is good…the threat of homemade jeans, not so much. It would be nice to go back to that old suburban life…or some grown up, high school version of it, complete with nice, normal boyfriends who wear crew neck sweaters and like social studies. So, what's wrong with normal? Well, kind of everything. She knows that, of course, why else would she learn bass and join Jam Band, how else would she know to idolize infamous wild-child and high school senior Emma (her best friend Sarah's older sister), why else would she get arrested while doing a school project on a local freedom school (jail was not part of the assignment). And, why else would she kind of be falling in "like" with a boy named Monster—yes, that is his real name. Janie was going for normal, but she missed her mark by about ten miles…and we mean that as a compliment (from Goodreads)
Whatever Happened to Goodbye by Sarah Dessen
because it's Sarah Dessen!
What Happened to Goodbye is about a high school senior who, after her parents' divorce, has taken up the practice of assuming a new identity in each of the four towns she's lived in. (from Goodreads)


Untitled ( Kingdom of Cello #1) by Jaclyn Moriarty


Because her books are now on my pre-order list, and because this sounds so intriguing and quite Philip Pullman like – "A series set partly in a Kingdom, and partly in the real world. I want a character to walk out free and clear, I want him to be tossing a ball, a red ball, and his hat is woollen and dark grey, and he's walking across snowy fields. Across white, white, white, white fields." (From Goodreads). I'm really hoping they don't mean a 2011 release just in Australia though!


Lola and the boy Next Door by Stephanie Perkins


because it's a companion novel to my beloved Anna and the French Kiss and it has FOUR hot boys in it, and the main character is called Lola, and I love that name.






What are your most anticipated reads of 2011?
Posted by

Alexa
at 01:01